Let's face it: You're busy. And when you say you don't have time to get to the gym, I actually believe you. I'm a business owner, a frequent traveler, and a father of two young children, so trust me: I don't have an hour to spend in the gym every day either, and I have one at my house. Who has four to five hours a week to spend working out? And even if you do somehow find the time, is it even working for you? Are you seeing results?
That's why I spent the last decade pouring over research and talking with clients, friends, and seasoned trainers, all in the name of finding a way to make it possible to stay fit and toned while minimizing time and any inconvenience.
And I actually found out how to do it. The good news is we don't need to spend as much time exercising as we thought. And regardless of your skill set or fitness level, you can build a leaner, stronger, healthier body. So here are two key tips for ditching the gym for better results in a fraction of the time:
Get Your Steps In
Try to take 10,000 steps a day (or meet your step goal), and move as much as possible, all throughout the day. Being sedentary for 23 hours and active for one isn't doing your body or your health any favors. Making small tweaks to your daily life and including movement (like taking a walking meeting, walking to lunch, or simply standing up every hour), can make a huge difference you can sustain long-term.
Do One Move for 5 Minutes Every Day
Forget the hour-long, exhaustive workouts, and focus on doing one single resistance exercise daily for at least five minutes. Pick a different body part each day of the week, and choose a corresponding move that targets that area. The goal here is to set you up for success—and we all have the time and energy for one exercise a day. No gym or spandex needed. Just find yourself a little space to move around, and get to work.
Here are five moves to try, which together work your entire body. Perform one each day of the week, or if you have the time, do a set of each, to form a complete circuit.
DB Lunge with Shoulder Press 
This is a compound exercise, meaning it's two moves in one, but it doesn't feel like it because it's such a simple, natural movement. You'll challenge your legs (your quads and your glutes) as well as your shoulders.
Stand with feet hip distance, and hold two lightweight dumbbells in front of your shoulders, palms facing forward. Step forward about three feet with your right foot, bending your left knee to form a lunge—while simultaneously pressing the dumbbells up overhead. Step back to start and repeat on the other side. Perform two to three sets of 8 to 12 reps, or until you reach five minutes.
Lying DB Triceps Extension with Hip Thrust
This is a compound movement that even the least coordinated among us can handle. You'll work the backs of your arms (triceps) and glutes. Did you know your triceps make up 2/3 of your arms? They're a big deal, so it's good to keep them strong.
Lay on a mat with feet about hip distance and flat on the mat, and hold a pair of lightweight dumbbells, with your arms extended up toward the ceiling, palms facing each other. Bend your elbows and lower the dumbbells back toward your ears. Next, press your hips up toward the ceiling while simultaneously straightening your arms to raise the dumbbells. (Be sure not to hyperextend your elbows.) Lower the dumbbells and your hips back toward the mat and repeat for two or three sets of 8 to 12 reps.
DB Stiff-Legged Deadlifts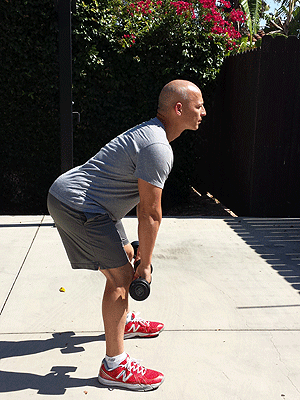 Ah, this is one of my favorite moves of all time—targeting the backs of your legs (hamstrings) and glutes. Most people over-train their quads at the expense of their hamstrings, but hamstrings are really the foundation to great legs and a firm derriere.
Stand with feet hip-distance, with a slight bend in your knees, and hold a pair of lightweight dumbbells, arms in front of your thighs, palms facing your body. Bend forward from your hips, keeping your back flat, and lower the dumbbells toward the floor. Engage your hamstrings and squeeze your glutes to return to start. Repeat for two to three sets of 8 to 12 reps.
Pike Plank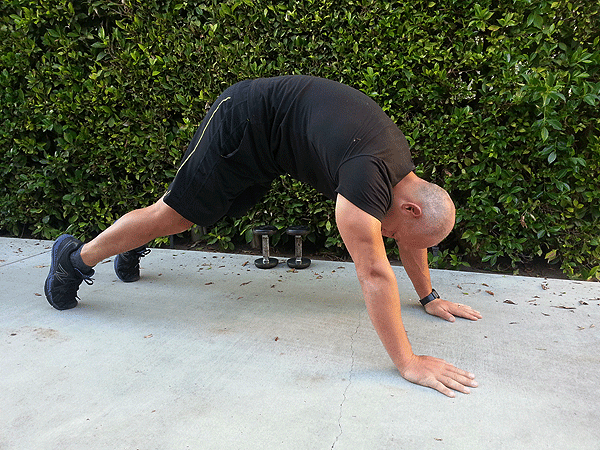 Skip the crunches! This pike plank works your abs without jarring your neck or lower back, and it engages more of your core.
Get into a regular plank, with your hands directly beneath your shoulders, feet hip-distance, and your abs pulled in toward your spine. Pull your rear up toward the ceiling, to form a pike position, and then slowly lower your hips toward the floor. Repeat for two sets of 8 to 12 reps.
Dolphin Bench Extensions 
I find lots of people are scared to work their back (especially lower back) for fear of injury. The truth is that strengthening your back is the best thing you can do to prevent injury over the long term. This move works both your lower back and your glutes, and also challenges your midsection in a lengthened position, instead of hunching you over, like crunches can do.
Lay face down on a bench, or on a mat on the floor. Squeeze your glutes and lower back to lift your legs off the floor (or up a few inches, if using the bench). Lower and repeat for three sets of 20 reps.
This article is not intended to substitute for informed medical advice. You should not use this information to diagnose or treat a health problem or condition. Always check with your doctor before changing your diet, altering your sleep habits, taking supplements, or starting a new fitness routine.